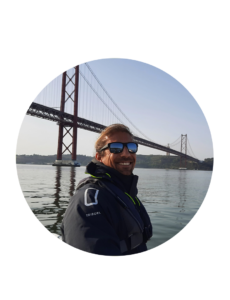 DAVID TOMÁS


There are very few places that make David as happy as he is at sea. When land based, you can find him still barefoot and always accompanied by his loyal dog Eros. David grew up sailing, taking his first boating license at only 13 years of age and pursuing his studies at the Nautical Institute of Lisbon. After graduating, David moved to the Algarve where he used his sailing experience and knowledge to work as a captain between Faro and Portimão. Having also worked as a sailing instructor, he enjoys guiding students of all ages and abilities into the beautiful art of sailing, always fostering technical know-how but also an appreciation of the natural world. An ocean wildlife fanatic, he probably has more miles at sea than kilometers on land. David coincidentally crossed paths with Inês in the Algarve and Lisbon, and is working with Oceanscape since May 2022.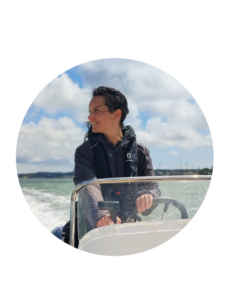 INÊS
SCHLINGENSIEPEN
Inês founded Oceanscape out of her a passion for the sea and connecting people with the world through travel and adventure. From a young age she found in the Ocean her favourite place to play and later, for self-discovery. A traveller at heart, marine biology enthusiast and surfer, she decided to leave her nursing profession behind and follow her longtime dream of working at sea. She founded Oceanscape in the Algarve in 2018, designing an adaptation of a typical fishing boat and naming it symbolically after her daughter, Noa Asiri ("smiling freedom"). The pandemic made her move to Lisbon, but the business survived and she is now happy to share her new and unique perspectives of the city, the river, and it's connection with the sea. Outside Oceanscape, Inês is passionate about ocean conservation, yoga, photography, and is most recently exploring freediving. Sharing her loves with her daughter is an always-present passion, and you may cross paths with little Noa on some of our trips.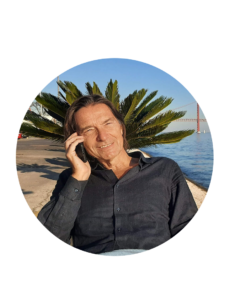 ROBERT
SCHLINGENSIEPEN
Robert grew up in Germany but spent his childhood summers in his second home in the Algarve - Portugal, where he had the privilege to live just over the beach. The ocean was his backyard and he soon became an avid ocean explorer, leading "secret ocean operations" on his rowboat with his younger brother. Being surprised by a whale-shark encounter is one of the many stories on his childhood memory lane. He has a soft spot for ocean sports, having practiced windsurf, waterski, surfing and sailing, although his latest aficionado passion is Astronomy and Astrophotography. After a successful career in managing an international dairy company, he didn't hesitate to join his daughter Inês on a project that was also close to his story and heart. You can find him at the Oceanscape back-office or the boatyard, keeping our boat in perpetual youth with his many tech skills.